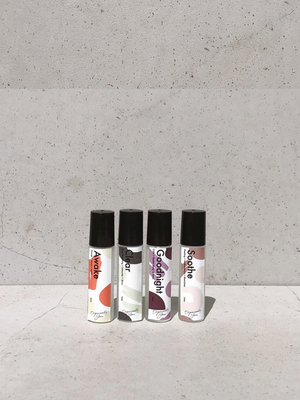 OY ESSENTIAL ROLLER SET
OY Essential Roller Set.
Includes ALL four hand-blended rollers with therapeutic grade essential oils pre-diluted with fractionated coconut oil. 
Awake: To boost your energy, support your mind with focusing, staying alert & uplifting your mood to new wonderful heights.
Ingredients: Grapefruit, lemon, rosemary, wild orange, peppermint 
& fractionated coconut oil.
Goodnight: To help calm your mind and support you with a restful sleep.
Ingredients: Lavender, cedarwood, vetiver,  frankincense & fractionated coconut oil.
Clear: Allowing you to breathe freely, supporting you to clear sinus and congestion + keeping sickness away + give you a boost of energy.
Ingredients: Eucalyptus, Cardamom, Peppermint, Lime & fractionated coconut oil.
Soothe: To assist in healing your skin, provides antibacterial support for cuts or scars and calms redness/blemishes.
Ingredients: Tea tree, Geranium, Copaiba, Lavender, Lemon & fractionated coconut oil.

HOW TO APPLY: Apply to inner wrists, back of neck, soles of feet, below earlobe, temples and massage in. You can also roll down the spine and in the palm of hand, rub together and bring hands to your nose and take some deep breaths while focusing on the aroma... Apply as often as required.